Clean Out Your Kids' Closet and Get Paid for It!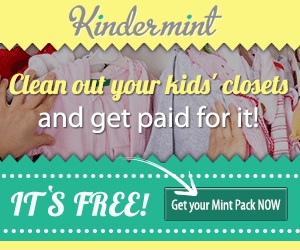 Kids outgrowing their clothes? Why not sell them and earn some extra cash! There is a new site called Kindermint that buys you designer kids clothing.
Here's how it works:
Order a free MINT PACK from Kindermint
Stuff the MINT PACK full of kids clothes you wish to sell
Drop the Pre-Paid MINT PACK in the mail (UPS or USPS)
Cash in! Your choice of check or deposit to your PayPal account.
Note: Use of Kindermint's service is free. They request a $4.95 deposit for Mint Packs, however, this deposit is refunded in full when the MINT PACK is returned to us stuffed with clothing.